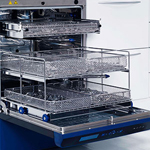 Washer Disinfector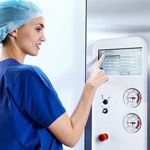 Sterilizing Handpieces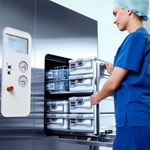 Getinge Autoclave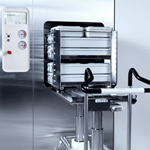 Getinge Trolley
QUALITY AND DENTAL SERVICE EXCELLENCE

The Central Sterilisation or Central Supply is located within the hospital in which dental or surgical supplies and equipment, are cleaned, prepared, processed, stored, and issued for patient care, in a completely sterile environment.

Sterilisation by a vacuum steam autoclave is the method for processing most dental instruments and hand pieces for every patient in Dental Hospital. The modern dental unit has an infection control system. Sterilisation is a complete process that begins when used instruments are removed from the treatment room, following a continuum of quality assurance until those same instruments are cleaned, packaged, sterilised, stored, transported, and then used on the next patient and is done in the central supply area separate from patient treatment.

Guidelines for Infection Control in Dental Hospital Settings include (1) personnel health elements of an infection control program, (2) preventing transmission of bloodborne pathogens, (3) hand hygiene, (4) personal protective equipment, (5) contact dermatitis and latex Hypersensitivity, (6) sterilization and disinfection of patient-care items, (7) environmental infection control, (8) dental unit waterlines, biofilm, and water quality, and other issues.

Pathogenic contamination in the treatment room is prevented through conscientious infection control. Three concepts combine to form a successful hygienic safety plan for treatment rooms - cleaning, disinfecting and sterilising. The uses of disposable dental material items prevent their reuse on other patients. We also use protective equipment such as latex gloves, masks, eye wears, and lab coats.
INFORMATION
Dental Treatment
Personal protective equipment
Universal Precautions
Disposable dental materials
ADA and CDC guidelines
Cleanliness and disinfection
Cleaning treatment areas
Cleaning the environment
Infection control

Dental Sterilisation
Sterilising hand pieces
Sterilising instruments
Dental instrument set
Instrument washer
Ultrasonic cleaning
Packaging
Steam autoclave
Operator error control

Transport of instruments
Separate dumbwaiters
Central supply
Clean storage
Removal and disposal
Separate sharps container
Separate waste