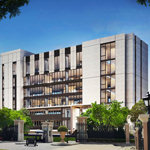 Front View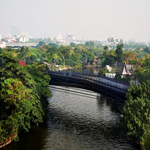 San Samran Bridge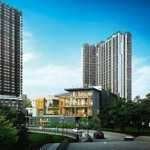 Habito Mall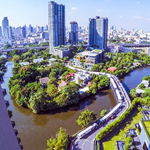 Phra Khanong Canal
QUALITY AND DENTAL SERVICE EXCELLENCE

Dental Hospital Bangkok is a private modern dental clinic in Bangkok. The hospital has been open since 1990 at 88/88 Sukhumvit 49, Sukhumvit Road, Bangkok and relocating to a larger site on the T77 community, Sukhumvit 77 (On Nut 1/1) in May, 2018. T77 community is the mega project development located on an over-50-rai plot of land surrounded by a green environment and conveniently linked to other parts of the city with either the main Sukhumvit Road, the BTS Sky train and nearby Expressways. Access to and from is fast and easy, with benefits from the neighbouring Habito Mall facility and Shuttle Bus services, a natural canal that runs along Sukhumvit 77 (On Nut) Road, making it a popular new location for Thais and foreigners alike, Dental Hospital Sukhumvit 77 - Opening MAY 2018.

The hospital provides complete dental services, dental check-ups, teeth cleaning, teeth whitening, composite white filling, ceramic veneers, ceramic inlays, gold inlays, braces, Invisalign with iTero Intraoral Scanner, microscopic root canal treatment, crowns, bridges, IPS e.max crown, CAD/CAM dental restoration, dental implant, All-On-4 dental implants, pediatric dentistry, temporomandibular joint, oral and maxillofacial surgery with the highest quality dental care by dental specialists in the most gentle manner possible. Our high standard dental procedures ensure that there is no compromise on all aspects of dental quality, hygiene and sterilisation of each and every service.

The environment is more likely to make patients feel relaxed and comfortable. Our philosophy is to take away the fear often associated with the dental office. Patients should receive dental care with the least amount of stress possible.

Sixty percent of patients are foreigners who are expatriates, diplomats, business persons, airline crew members, travellers and forty percent are Thais. Patients receive the most hygienic treatment for all dental works by specialists and we are confident that all patients will receive the highest quality dental work.

Our high-tech laboratory features the latest products, services, and techniques available that we provide for our patients with a complete solution, utilizing only the best materials to produce dental restorations with precise fits and perfect aesthetics.
INFORMATION

Hospital Hours
Mon–Sun

09.00 AM-08.00 PM
24-Hour Emergency On-Call Service

Location
Sukhumvit 77 (On Nut 1/1) Bangkok

| | |
| --- | --- |
| BTS Station: | On Nut |
| | Phra Khanong |
Facility
1 Oral Diagnosis Room
1 Consultation Room
1 Dental Emergency Room
2 Panoramic and CT Scan
14 Intraoral X-ray Room(s)
4 VIP Dental Treatment Room(s)
24 Dental Treatment Room(s)
6 Microscopic Endodontics
1 Operating Room
2 Admitting Room(s)
1 Children's Corner
1 Sky Lobby-Snack Bar
1 VIP Lounge
1 Dentist on Duty Room
1 Central Sterilisation Center
2 Handicapped Toilets
2 Large Hospital Patient Lift(s)
1 Large Hospital Staff Lift
2 Dump Waiters on Each Floor
Double Glass Windows
Smoke Alarm
Fire Exit
Shuttle Bus Services
27 Parking available at basement
85 Habito Mall Parking
2 EV Charging Station

Credit Cards
Visa-Master-American Express
JCB-International Debit
Credit Card Online

Currency
THAILAND BAHT (THB)
Foreign Currency